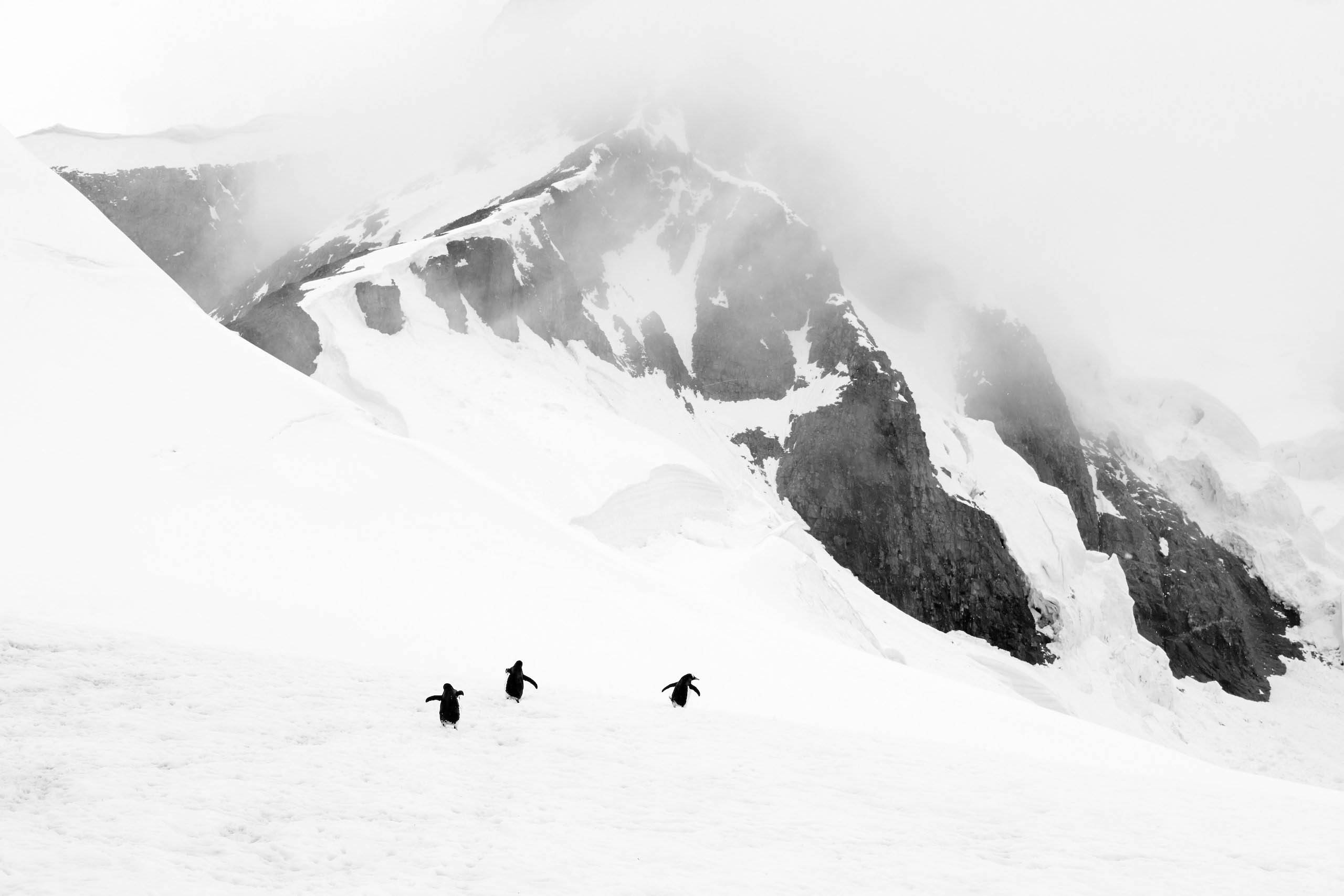 A word from the photographer:
Species: Gentoo penguin (Pygoscelis papua)
Location: Port Charcot, Antarctica
Description: Gentoo penguins march through the snow to reach their breeding colony
Information:
Gentoo penguins are listed as Near Threatened as their numbers are declining. Habitat loss, human disturbance and the impact of fisheries on their food species are considered the main threats.
Gentoo penguins need snow free ground to nest on and many of their breeding colonies in Antarctica are located on rocky ridges some distance from the sea – perhaps because these become snow free early in the season. To reach them, these small, flightless birds must trek several hundred metres, often across expanses of snow. I have spent hours watching these penguins struggle and slide their way up and down to the sea, and admire their tenacity and spirit. On this grey Antarctic day I had been photographing near the colony and was heading back to the boat with cold, wet feet when I saw this trio trudging across the snow. I wanted to capture the sense of scale and the way the penguins were dwarfed by the stark mountains in the background. I enjoy using black and white and felt that this image was simplified and made more dramatic in this format.
Le mot du photographe :
Espèce : Manchot de Gentoo (Pygoscelis papua) 
Localisation : Port Charcot, Antarctique 
Description : Des manchots Gentoo marchent dans la neige pour rejoindre leur colonie de reproduction. 
Information : 
Les manchots Gentoo sont classés dans la catégorie "quasi-menacé" car leur nombre est en déclin. La perte d'habitat, les perturbations humaines et l'impact de la pêche sur leurs espèces alimentaires sont considérés comme les principales menaces. 
Les manchots Gentoo ont besoin d'un sol sans neige pour nicher et beaucoup de leurs colonies de reproduction en Antarctique sont situées sur des crêtes rocheuses à une certaine distance de la mer – peut-être parce que ces crêtes sont libres de neige tôt dans la saison. Pour les atteindre, ces petits oiseaux qui ne volent pas doivent parcourir plusieurs centaines de mètres, souvent à travers des étendues de neige. J'ai passé des heures à regarder ces manchots se débattre et glisser sur leur chemin vers la mer. J'admire leur ténacité et leur esprit. En ce jour gris de l'Antarctique, je faisais des photos près de la colonie et c'est au moment de retourner au bateau, les pieds froids et mouillés, que je vis ce trio marchant péniblement sur la neige. Je voulais capturer le contraste entre ces petits pingouins et les montagnes austères de l'arrière-plan. J'aime utiliser le noir et blanc et j'ai senti que cette image était simplifiée et rendue plus dramatique dans ce format.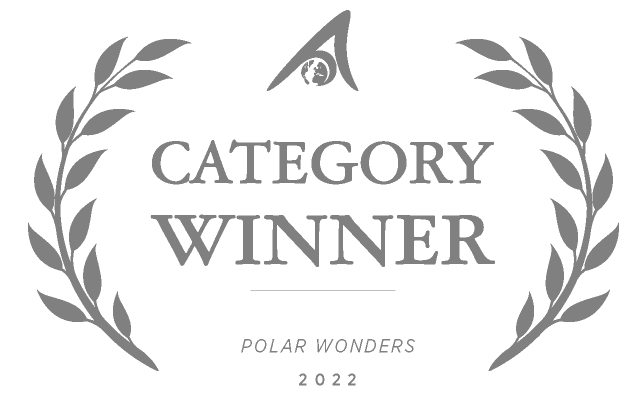 Photographer: Kirstin Jones

Location: Antarctica

Year: NC

Camera: NC

Lens model: NC

Aperture: NC

Shutter speed: NC

ISO: NC