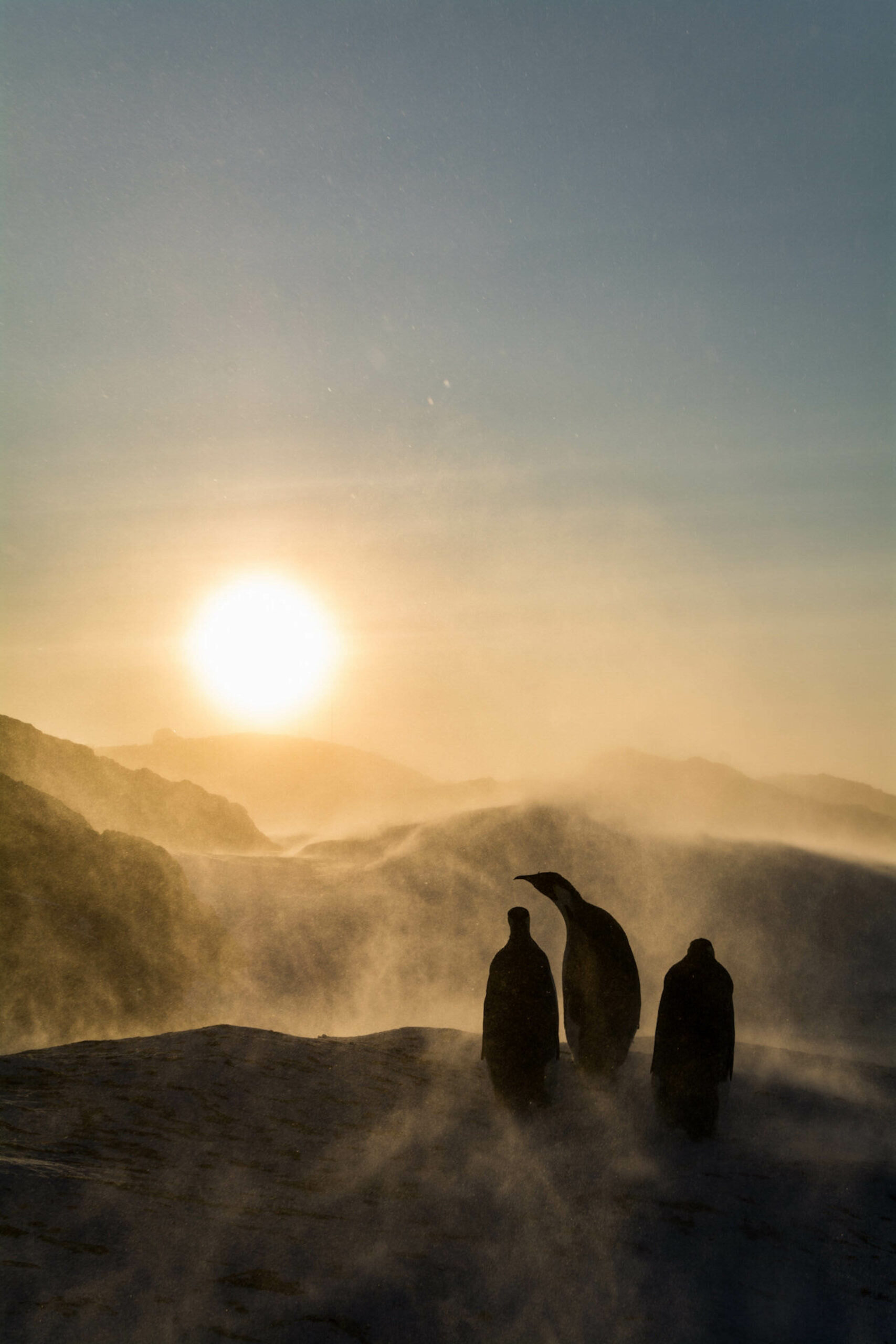 A word from the photographer:
The emperor penguin chooses winter as its mating season and Antarctica as its breeding ground – in other words, the coldest environment it can find on Earth. Average temperatures drop to -40°C during the long polar night and the blizzard can blow at speeds of 250 km/h along the coast. The emperor penguin's secret lies in a whole series of anatomical, physiological and behavioural adaptations that enable it to maintain its body temperature while expending minimum energy.
We are in the heart of the austral winter and of my 15 month mission in Antarctica. I had been following the reproduction of emperor penguins for months and the first females were leaving the colony after egg laying. The conditions during the photograph were extreme, nearly -50°C with winds exceeding 100km/h.
The technical challenge in Antarctica is clearly the cold, the low luminosity and the violent winds.
Le mot du photographe :
Le manchot empereur choisit l'hiver pour s'accoupler et l'Antarctique comme lieu de reproduction – autrement dit, l'environnement le plus froid qu'il puisse trouver sur Terre. Les températures moyennes descendent à -40°C pendant la longue nuit polaire et le blizzard peut souffler à des vitesses de 250 km/h le long de la côte. Le secret du manchot empereur réside dans toute une série d'adaptations anatomiques, physiologiques et comportementales qui lui permettent de maintenir sa température corporelle en dépensant un minimum d'énergie.
Nous sommes au cœur de l'hiver austral et de ma mission de 15 mois en Antarctique. Je suivais depuis des mois la reproduction des manchots empereurs et les premières femelles quittaient la colonie après la ponte. Les conditions pendant la photographie étaient extrêmes, près de -50°C avec des vents dépassant les 100km/h. 
Le défi technique en Antarctique est clairement le froid, la faible luminosité et les vents violents.
Photographer: Cornec

Location: Antarctica

Year: NC

Camera: NIKON D7100

Lens model: 16.0-300.0 mm f/3.5-6.3

Aperture: f/13
Shutter speed: 1/640

ISO: 100