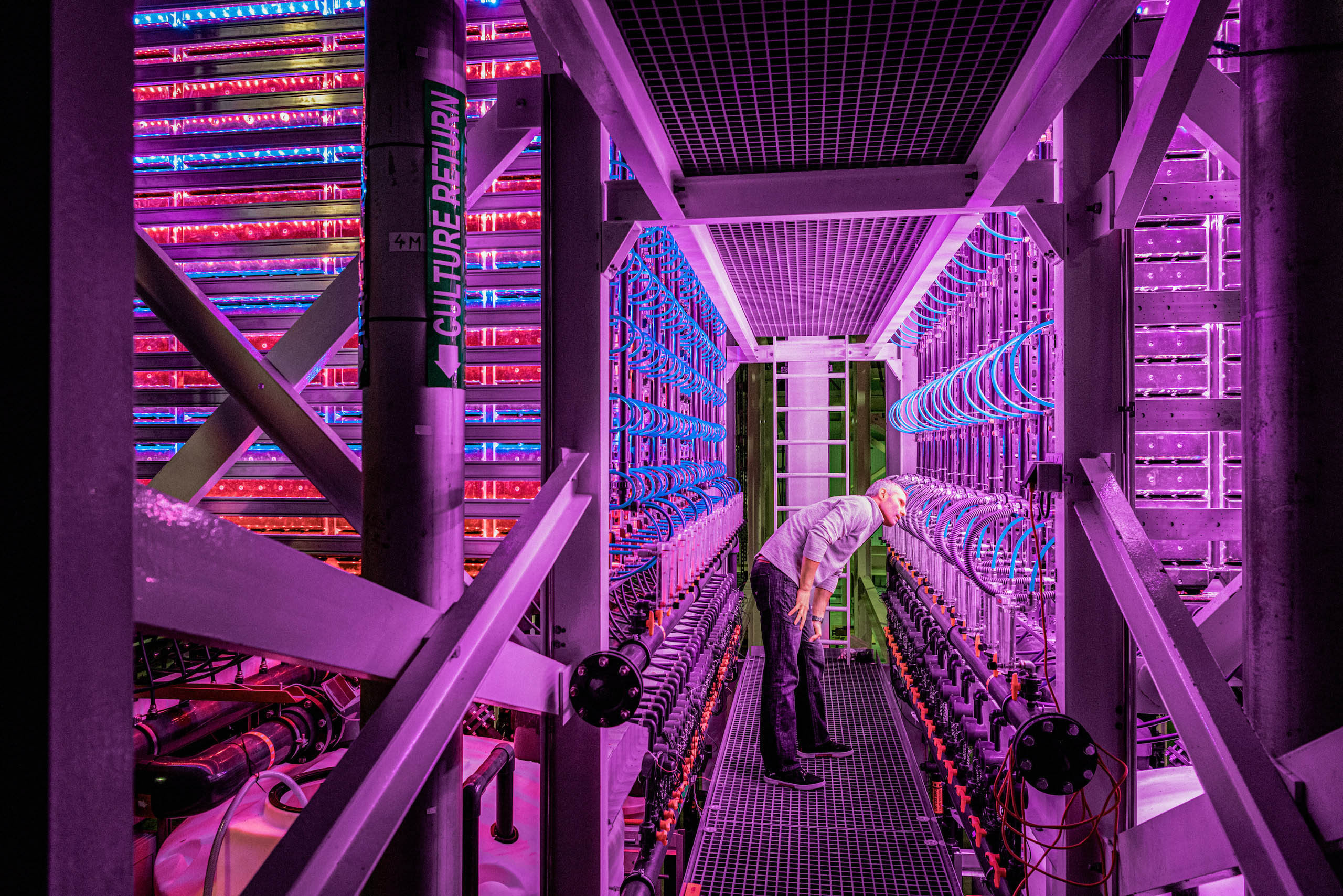 A word from the photographer:
Kristinn Haflidason, CEO of Algaennovation, monitors one of their photobioreactors in the micro-algae production facility, at ON's Geothermal Park in Hellisheidi. Iceland has successfully transformed its economy. In a span of a few decades, the country moved away from fossil fuels and shifted to 100% electricity production from renewable sources. This transition nurtured an ecosystem of innovation, creativity and entrepreneurship that generated new ways to make business with minimal impact on the environment. Algaennovation proprietary technology for micro-algae cultivation enables to have negative carbon footprints and use less than 1% of freshwater and land areas used by conventional small-scale algae companies. The plant uses water and electricity from the nearby Hellisheidi geothermal power plant and exploits carbon dioxide emissions in a process that turns waste to value in a sustainable manner.
Le mot du photographe :
Kristinn Haflidason, PDG d'Algaennovation, surveille l'un de leurs photobioréacteurs dans l'installation de production de microalgues, au parc géothermique d'ON à Hellisheidi. L'Islande a réussi à transformer son économie. En l'espace de quelques décennies, le pays a abandonné les combustibles fossiles et est passé à une production d'électricité provenant à 100 % de sources renouvelables. Cette transition a nourri un écosystème d'innovation, de créativité et d'esprit d'entreprise qui a généré de nouvelles façons de faire des affaires avec un impact minimal sur l'environnement. La technologie exclusive d'Algaennovation pour la culture de microalgues permet d'avoir une empreinte carbone négative et d'utiliser moins de 1 % de l'eau douce et des terres utilisées par les petites entreprises d'algues conventionnelles. L'usine utilise l'eau et l'électricité de la centrale géothermique voisine d'Hellisheidi et exploite les émissions de dioxyde de carbone dans un processus qui transforme les déchets en valeur de manière durable.
Photographer: Simone Ramonte

Location: NC

Year: NC

Camera: NIKON D810

Lens model: 24.0-70.0 mm f/2.8

Aperture: f/4.5
Shutter speed: 1/400

ISO: 800