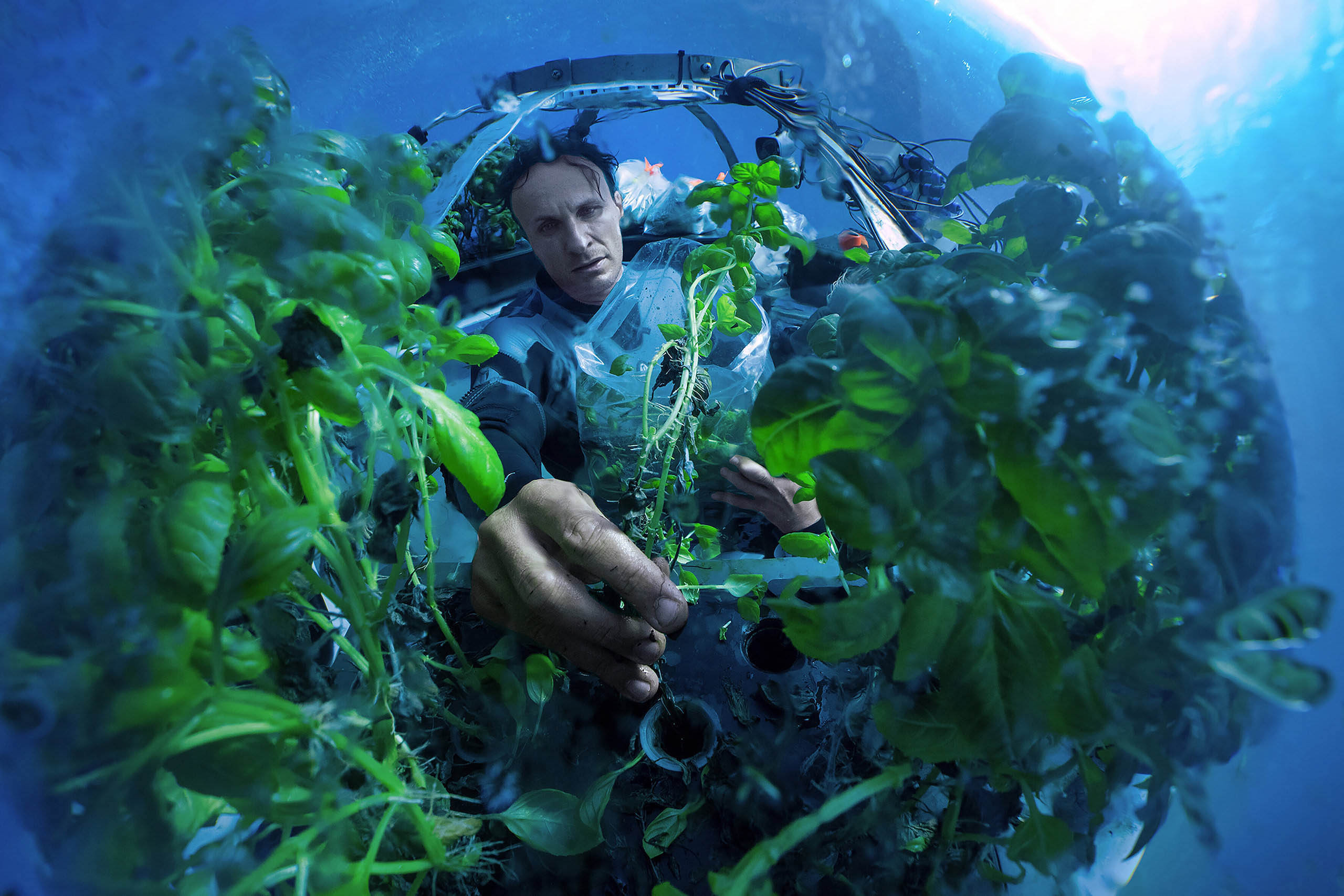 A word from the photographer:
The Nemo's Garden is the first system of underwater greenhouses in the world. Its aim is to find an alternative method of agriculture for our future in order to counteract the increasing pressure of climate change on our planet, including desertification. In its biospheres different varieties of terrestrial plants have been cultivated such as basil, tomatoes, strawberry, beans among the others. Luca Gamberini committed in the basil harvesting inside the biosphere number 1. Once the plants have been gently removed from the hydroponic box, they will be placed inside an hermetic box and carried out to the surface. Basil was chosen as model plant (due to its importance in the Ligurian cuisine) to study its phytochemical, physiological, and micro-morphological characteristics in comparison with plants of the same variety grown in a terrestrial environment. The aim of the study was the evaluation of the plant responses to this environment where the terrestrial greenhouse is substituted by an underwater biosphere.
Le mot du photographe :
Le "Nemo's Garden" (Jardin de Némo) est le premier système de serres sous-marines au monde. Son objectif est de trouver une méthode d'agriculture alternative pour notre avenir afin de contrer la pression croissante du changement climatique sur notre planète, notamment la désertification. Dans ses biosphères, différentes variétés de plantes terrestres ont été cultivées comme le basilic, les tomates, les fraises, les haricots… Luca Gamberini s'est engagé dans la récolte du basilic à l'intérieur de la biosphère numéro 1. Une fois que les plantes ont été délicatement retirées de la boîte hydroponique, elles seront placées dans une boîte hermétique et transportées à la surface. Le basilic a été choisi comme plante modèle (en raison de son importance dans la cuisine ligure) pour étudier ses caractéristiques phytochimiques, physiologiques et micro-morphologiques en comparaison avec des plantes de la même variété cultivées dans un environnement terrestre. L'objectif de l'étude était d'évaluer les réponses des plantes à cet environnement où la serre terrestre est remplacée par une biosphère sous-marine.
Photograher: Giacomo d'Orlando 

Location: Italia 

Year: NC

Camera: NIKON D7500

Lens model: 11-20mm f/2.8

Aperture: f/10
Shutter speed: 1/640

ISO: 640